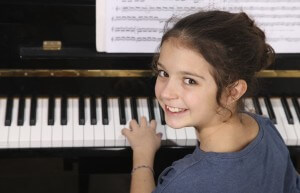 Students are counting down the days until school is out. Parents are planning summer camps and vacations. The sun is shining and the temps are rising. But with all the excitement in the air, don't let your child's weekly piano lessons get pushed off to the wayside. If anything, lessons and practice during the summer can be the best time to strengthen your child's skills and incorporate more fun into daily practice.
If You Don't Use It, You Lose It
Like any skill or talent, the art of playing the piano is best mastered with practice and instruction. Like learning a second language, your child will hone their piano skills when they are immersed in the craft. During the summer, kids often find that sports camps, family vacations, and time with friends are most important. And while those things are essential, stopping piano lessons during this time is detrimental to all the work they put in during the year. To keep your child focused on piano before summer starts, create a schedule that incorporates their lessons and practice as you did during the school year. Remind them that in order to keep from taking steps back in their progress, continuing lessons over the summer will pay off in the long run.
The Cost of Taking Time Off
Each lesson costs parents money. The more time taken off in between lessons, the farther back your child must go to pick up where he or she left off. This creates a decrease in value in the time and money spent on your child's piano education. Keeping your child fresh and interested in piano will pay off for both him and your pocket book.
Schedule Longer Lessons
During the summer, kids have more free time during the day than when school is in session. This time can be used to schedule longer lessons. Longer piano lessons create more time to focus on your child's skill without distractions. When taking a lesson for an hour versus 30 minutes, your child can work out specific problems, interact more in depth with their teacher, and even have extra time for creativity and improvisation. For teachers, a longer session with students can bring to attention their specific strengths and weaknesses and give more time to instruct them in appropriate ways.
Parents: Incorporate Piano Concerts into Family Outings
A great way to keep your child interested and excited is to make their skill a family affair. Instead of taking the family out to a movie, one week you can attend a local piano or orchestral concert. Keep an eye out for festivals or fairs that showcase local piano players, even while spending time in cottage country or rural communities. The family can spend the afternoon together at these events enjoying local culture and art, and spend an hour or two watching a local pianist. In addition to pianists, we encourage our students to appreciate and learn about all kinds of music. Parents can support this by introducing their child to unique and more obscure instruments and musicians. The more your child experiences live music events, the better!
Pick a Composer for the Summer
Whether you love Mozart, Beethoven or the Beatles, why not take some time to share your own musical experiences with your child? Sometimes parents take for granted that children are learning about musical styles or genres at school, but this is simply not the case. Introducing your child to a new composer or type of music is perfect out of classroom learning that they will remember for the rest of their lives. Playing familiar pieces is one of the most popular ways of learning for students and easy editions of all types of music are available online and at the local music store.
Make Summer Piano Practice Social
Does your son or daughter have a friend who also takes piano lessons? If so, a great way to keep practice fun is to let kids play together. Invite a friend over to practice with your child, and reward their hard work with pool time or a fun game afterwards. Teachers can also give you different exercises to use with your child, and with two children. This is a perfect time for your child to work on duets with a fellow pianist. Instead of focusing on the time spent practicing, parents can set a goal for the pair. For example, each child can pick a piece, or part of a piece, to complete without any mistakes. Each child can also contribute positive feedback to the other, or make a game of guessing new pieces that children are learning. As a parent, remember to keep the practice fun, positive, and motivating. Your support is always needed from your child, but the support from a friend can be just as rewarding.
Summer break can be a great time to focus on your child's piano playing and incorporate fun, challenging exercises to his or her schedule. Remember, your teacher is always there to help you with practice sessions and goals. We also understand that summers can be extremely busy, and will start before school's end to create a schedule for your child that works for everyone. We want your child to enjoy their free time, and keep honing their piano playing skills!